I have just added high quality screen captures from Channing's 2014 film '22 Jump Street' to the gallery. Aswell as Channing, the film also starred Jonah Hill, Ice Cube, and Amber Stevens West. You can now check out the Screencaps, along with the Art & Posters, Behind the Scenes, Set Pictures and Stills via the links below.
Although they made their way through high school successfully, an investigation at a local college brings big changes for undercover officers Jenko (Channing Tatum) and Schmidt (Jonah Hill). When Jenko meets a kindred spirit on the football team and Schmidt infiltrates the bohemian art-major scene, both men begin to question their partnership. Not only do they have to crack the case, but now the two overgrown adolescents must learn how to behave like adults.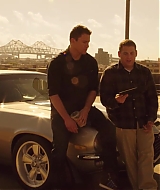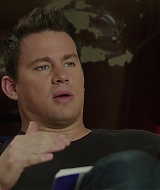 A double-dose of Channing Tatum and Jonah Hill is coming September 15th, 2020 with the 4K Ultra HD debut release of 21 Jump Street and its sequel, 22 Jump Street.
Phil Lord and Christopher Miller directed both of these action-comedies. 22 Jump Street, released in 2014, is the last film the duo directed together not including their partial work on Solo: A Star Wars Story.
Quite a few bonus features found their way onto the 4K Disc for 22 Jump Street. Here's how each film's extras are composed.
21 Jump Street 4K UHD Disc Extras
Theatrical Trailers
21 Jump Street Blu-ray Disc Extras
Commentary with Directors and Cast
Back to School
20 Deleted Scenes
Gag Reel
Johnny Depp on Set
Cube-O-Rama
Brothers in Arms
Peter Pan on the Freeway
The Rob Riggle Show
22 Jump Street 4K UHD Disc Extras
Big Time Action
Constructing Jump Street
How to Fight Funny
Ice Cubed
Inside Whyphy
Johnny Pemberton's Nonsensical Tour
Jump Street Spring Break
Ssshhhh: The Deleted Scene Library
Dick Graze Music Video
Theatrical Trailers
22 Jump Street Blu-ray Disc Extras
Commentary with Directors Phil Lord & Chris Miller, Jonah Hill and Channing Tatum
22 Deleted & Extended Scenes
5 Line-O-Ramas
The Perfect Couple of Directors
Joke-A-Palooza
Everything is Better in College
Jenko Split Video
The Perfect Line: Ad-Libbing on Set
The Dramatic Interpretation of 22 Jump Street – the Version Without the Jokes!
Don't Cut Yet: The Mr. Walters Prison Scene
New Recruits: Casting 22 Jump Street
Janning and Chonah
Extended Zook & McQuaid Football Video
Pre-order 21 Jump Street and 22 Jump Street on 4K at Amazon.